"Tuscany has influenced our food, especially the area from which my family originates, Castiglioncello, near the port of Livorno. Some of the seafood dishes remind me of the times when I was young and catching fish off a pier at the little harbour. All food was freshly prepared! This we strive to continue, with an emphasis on flavour and balance in each dish"
We live to eat! We feel the value of life can be celebrated with food and wine but more importantly through sharing experiences and laughter with friends and family. Our Italian Restaurant is inspired by a home cooked feeling, where the kitchen is the heart of the home! A space in which anyone feels "Parte Della Famiglia".
RESERVE YOUR TABLE WITH US NOW! PLEASE CALL ON:
FILL OUT YOUR INFORMATION AND WE WILL CONTACT YOU TO CONFIRM YOUR RESERVATION.
Any item on our menu can be a take away. With that said our pizza is a favourite with our customers.
Let us do the catering for your dinner party bring in your dishes and we'll fill them with our delicious home-cooked food. OR
Let us do the catering for your office lunch. Choose from our menu, or we will design a menu for you, or even just fabulous finger food.
Buy our famous narcotic salad dressing today for only R 89
ITALIAN RESTAURANT ADVENTURE
Monday Just Got Better!
Luca's is open on Mondays. Yip enjoy your favourite Luca's dish 7 days a week.
Pensioners get free corkage on a Monday.
MONDAY - THURSDAY: 11:30 - 21:30
FRIDAY + SATURDAY: 11:30 - 22:00
SUNDAY: 11:30 - 21:30
​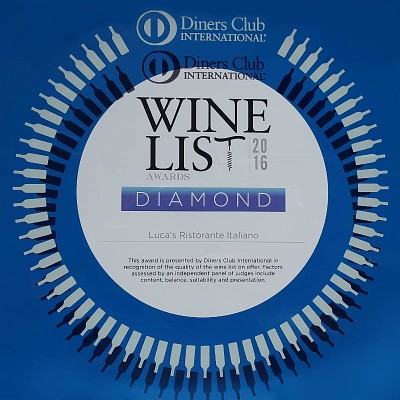 WE ARE OPEN!
The Covid-19 virus has impacted everyone in many ways, us too. We would like to encourage our loyal guests to keep supporting us through this difficult time and we will do everything in our power to make sure you are safe at Luca's.
We are committed to doing our part:
Our staff have been trained in an effective handwashing and sanitising regime.
There is hand sanitiser available for all guests at our entrance.
All surfaces in the restaurant are being meticulously sanitised.
We have fewer tables to keep a 2m gap between guests and
We will make sure that a maximum of 50 people including our staff is always kept, this has been prescribed by law.
You are welcome to use your cutlery, crockery and glasses, that said we are washing our cutlery, crockery and glasses with extra care.
Where possible food is being served on hot plates to help kill any viruses
We would like to remind our guests that we offer other options, that may suit this current situation better.
Catering
If you find that you have you are tired of making food at home and want some Lasagne, Cannelloni, Penne Alessandro or Melanzane Alla Parmigiana you can bring in your dishes and we'll fill them with delicious home-cooked food and deliver them back to you.
A flat delivery fee of R50 for all orders below R800.
Free delivery for orders over R800.
Large foil containers are available, six portions per container, if you order any two of these you get the delivery free.
All delivery offers are limited to an 8 Km radius from Luca's.
Pre-baked and home-baked options are available.
Takeaways
Call and collect pre-ordered meals
We will bring your order to your car for extra protection
Remember there is Uber eats and Mr delivery options too
MONDAY - THURSDAY: 11:30 - 21:30
FRIDAY + SATURDAY: 11:30 - 22:00
SUNDAY: 11:30 - 21:30