"Tuscany has influenced our food, especially the area from which my family originates, Castiglioncello, near the port of Livorno. Some of the seafood dishes remind me of the times when I was young and catching fish off a pier at the little harbour. All food was freshly prepared! This we strive to continue, with an emphasis on flavour and balance in each dish"
We live to eat! We feel the value of life can be celebrated with food and wine but more importantly through sharing experiences and laughter with friends and family. Our Italian Restaurant is inspired by a home cooked feeling, where the kitchen is the heart of the home! A space in which anyone feels "Parte Della Famiglia".
Any item on our menu can be a take away. With that said our pizza is a favourite with our customers.
Let us do the catering for your dinner party bring in your dishes and we'll fill them with our delicious home-cooked food. OR
Let us do the catering for your office lunch. Choose from our menu, or we will design a menu for you, or even just fabulous finger food.
Buy our famous narcotic salad dressing today for only R 95
LUCA'S ITALIAN RESTAURANT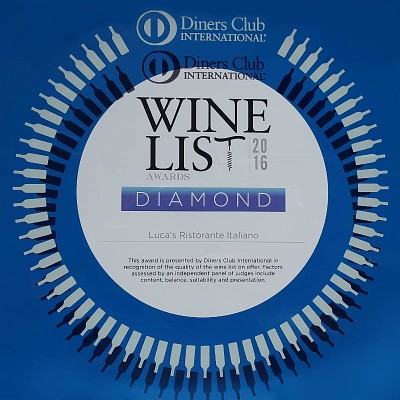 MONDAY - 11:30 - 20:30
TUESDAY - THURSDAY: 11:30 - 21:30
FRIDAY + SATURDAY: 11:30 - 21:30
SUNDAY: 11:30 - 20:30
​
MONDAY - 11:30 - 20:30
TUESDAY - THURSDAY: 11:30 - 21:30
FRIDAY + SATURDAY: 11:30 - 21:30
SUNDAY: 11:30 - 20:30
​
Order your take away food using our menu
Dear Friends/ Cari Amici, aka Valued Customers,
We hope this message finds you and your loved ones safe and in good health. We write to you today to share some bitter news - after 30 wonderful years, we have made the difficult decision to close our restaurant business.
Since the inception of our restaurant, it has been our utmost privilege to serve you, our loyal customers. We fondly remember the countless meals shared, celebrations hosted, and memories made within the walls of our establishment. Your unwavering support and patronage have been pivotal in shaping our success throughout the years, and for that, we are eternally grateful.
However, as we reflect on our journey, we believe now is the right time to embark on a new chapter in our lives. Although this decision was not made lightly, we are confident it is the right one for us personally and professionally. Over the years, we have built a strong community of dedicated staff who have become like family, and we want to ensure they have the opportunity to explore new horizons as well.
Please know that this decision does not dampen our love for the culinary arts or our commitment to exquisite dining experiences. It is a testament to the ever-changing landscape of the industry and the need to adapt. We are proud of all we have accomplished together, and the memories we have created will forever hold a special place in our hearts.
We understand you may have questions or concerns, and we are here to address any queries you may have. Even though our restaurant may be closing its doors, we remain dedicated to serving our community in other ways and will gladly assist in recommending alternative dining options.
As we bid farewell to our beloved restaurant, we would like to express our deepest gratitude for your unwavering support, loyalty, and friendship. Your patronage has defined our success, and we could not have asked for more wonderful customers. We truly hope our paths cross again in the future, and until then, we wish you all the best in your future endeavors.
We will let you know of future plans.
With heartfelt thanks and warm wishes,
Luca and Staff
​