We live to eat! We feel the value of life can be celebrated with food and wine but more importantly through sharing experiences and laughter with friends and family. Our Italian Restaurant is inspired by a home cooked feeling, where the kitchen is the heart of the home! A space in which anyone feels "Parte Della Famiglia".
RESERVE YOUR TABLE WITH US NOW! PLEASE CALL ON:
FILL OUT YOUR INFORMATION AND WE WILL CONTACT YOU TO CONFIRM YOUR RESERVATION.
Any item on our menu can be a take away. With that said our pizza is a favourite with our customers.
Let us do the catering for your dinner party bring in your dishes and we'll fill them with our delicious home-cooked food. OR
Let us do the catering for your office lunch. Choose from our menu, or we will design a menu for you, or even just fabulous finger food.
Buy our famous narcotic salad dressing today for only R 89
We have tailored a cyclist menu, so come meet your mates for for ride and enjoy a meal at Luca's.
Luca's now open on Mondays
Monday Just Got Better!
Luca's is open on Mondays. Yip enjoy your favourite Luca's dish 7 days a week.
Pensioners get free corkage on a Monday.
Learn to Speak Italian
Basic Italian language course starts on Monday 25th September, encompassing getting what you want at restaurants, shops and markets, etc.
Course would run for six months with an Italian tutor from Dante Alighieri, School of Italian!Proposed dates, October 23rd, November 20th, January 22nd, Feb 19th, March 19th!
A three course dinner depicting a different region/province of Italy with wine from the same region!
MONDAY - THURSDAY: 12:00 - 22:00
FRIDAY + SATURDAY: 11:30 - 23:00
SUNDAY: 09:00 - 21:30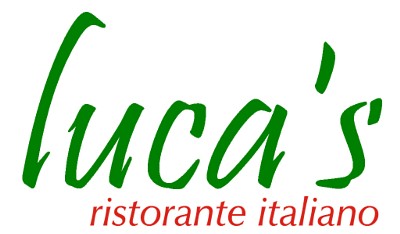 Get our App IOS or Andriod